The Berenson Schemes Three – Jack at the Helm
Jack at the Helm is set in Nepal - a magical country I have spent extensive time in. There are a lot of ways to help Nepal recover, here's one: Help Nepal. Here's another thing you can do - don't write off Nepal as a tourist destination! Of course, right this minute would not be a great time for tourism, but soon enough it will be. Places like Nepal depend heavily on tourism - it puts food on the table for many families. I know that when I experienced Hurricane Mitch (a cat 5) on Roatan, the devastation came in two parts - the hurricane itself, and then how long it took for tourists to come back. Not sure if Nepal is ready for you yet? Check the Lonely Planet forums. Intrepid backpackers will be the first to return and you can get accurate information from people on the ground.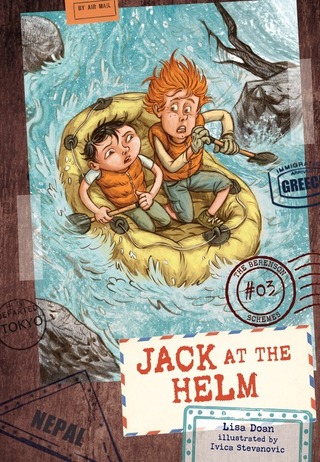 "I would recommend this book and series to any reader who likes Magic Tree House or Time Warp Trio books. Great for grades 2-4. " Gigi, The Late Bloomers Book Blog

"Readers will enjoy this rollicking and outlandish adventure. This book will be as fun for those who are new to the series as for those who have read the first two stories in the series." Heidi Hauser Green, Children's Literature

"Readers who have never traveled farther than their own backyards will love Jack at the Helm and the others in this series."Molly, Just a Little Creativity

"In addition to the action and humor, there's some really fantastic moments of depth within Jack at the Helm...I can't help but hope he'll find himself wrapped up in another Berenson scheme. "Sara, The Hiding Spot

"Child readers are likely to find Jack a fun character to read about while being grateful they aren't in his shoes. "Heidi Grange, GEO Librarian

"Upon reading Jack at the Helm (and the first two books in the Berenson Schemes series) what struck me most was Jack's unique voice."Maria Burel, Once Upon a Story
The Berensons travel to a remote region of Nepal to launch their latest get-rich-quick scheme – gathering disciples for a religion they invented that they expect will take the world by storm. Sadly, on an overnight trip to their new international headquarters in the town of Shangrilala, Jack is lost. Again.